Pogamut platform
programming bots made easy
StorySpeak
StorySpeak
is a language for the specification of agents programs. It is yet-another formalization of the BDI+P paradigm. This time, the language is especially designed for the authoring of short virtual stories. The aim of the language is to provide means for both character-centric approach and author-centric approach. The
StorySpeak
interpreter distinguishes between virtually embodied agents (actors) and bodiless omniscient agent (story director). Firstly, the author has means to create roles (the set of believes, desires and plans) for every actor that should participate in the story. Secondly, the author may specify intentions of the story director, that can alter the BDI intention stack of any actor at any given time allowing the author to switch between two mentioned approaches.
StorySpeak Diploma Thesis
successfully defended (2009) at Faculty of Mathematics and Physics, Charles University, Czech Republic.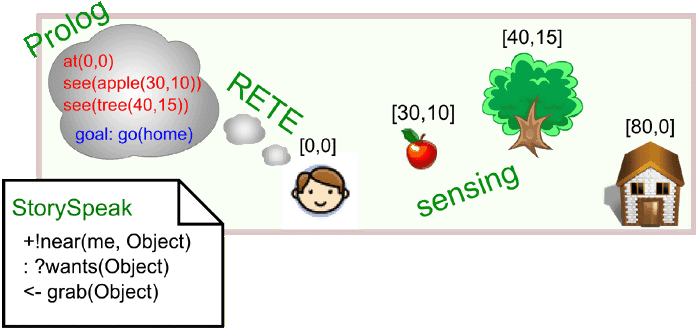 Several months has passed by and I already have new thoughts how to drive the
StorySpeak
beyond its basic BDI capabilities ... unfortunately, I don't have much time right now to materialize them.
---

Created by: jakub.gemrot. Last Modification: Wednesday 16 of September, 2009 22:00:24 CEST by jakub.gemrot.
---
Sidebar
This work is supported by GA UK 1053/2007/A-INF/MFF (2007-8), GA UK 351/2006/A-INF/MFF (2006-8), the Ministry of Education of the Czech Republic (grant MSM0021620838) (2008-9), by the Program "Information Society" under project 1ET100300517 (2006-9), and the project Integration of IT Tools into Education of Humanities (2006-8) and by the project CZ.2.17/3.1.00/31162, which are financed by the European Social Fund, the state budget of the Czech Republic, and by the budget of Municipal House Prague.